Dr Moya McMenamin
MB BCh BAO MD MRCPI MRCOG
Consultant Obstetrician and Gynaecologist, Consultant in Reproductive Medicine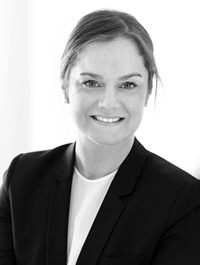 Dr McMenamin works as a Consultant Obstetrician and Gynaecologist in Cork University Maternity Hospital and the South Infirmary Victoria University Hospital. Her clinical interests include reproductive medicine and surgery, management of benign gynaecological conditions such as abnormal uterine bleeding, fibroids, endometriosis, PCOS, ovarian cysts and obstetric/antenatal care.
Dr McMenamin is an honours medical graduate of University College Dublin (2003), a Member of the Royal College of Physicians of Ireland (2007) and a Member of the Royal College of Obstetricians and Gynaecologists (2010). She received her MD from University College Dublin in 2014 following Health Research Board (HRB) funded studies on the immunological and metabolomic characteristics of the endometrium in women with endometriosis at The School of Biochemistry and Immunology, Trinity College Dublin and The Conway Institute, University College Dublin. She was awarded CSCST by the Irish Committee on Higher Training in 2014 and is on the Medical Council's register of medical specialists. She completed two years fellowship training in Reproductive Medicine in Merrion Fertility Clinic and National Maternity Hospital from 2010-2012.
Dr McMenamin is a Senior Clinical Lecturer with University College Cork providing undergraduate tuition in Obstetrics and Gynaecology and is a national trainer for the Royal College of Physicians in Basic and Higher Specialist Training in Obstetrics and Gynaecology.
Dr McMenamin is the clinical lead for fertility services at Cork University Maternity Hospital.
Areas of Expertise
Antenatal care and delivery, abnormal uterine bleeding, fibroids, PCOS, infertility/fertility assessment, benign cysts/adnexal masses, pelvic pain, endometriosis and intrauterine device removal/insertion